Learn Spanish quickly with Busuu
Master the Spanish language in just 10 minutes a day.
Start learning now
2 Spanish language courses to fit your every need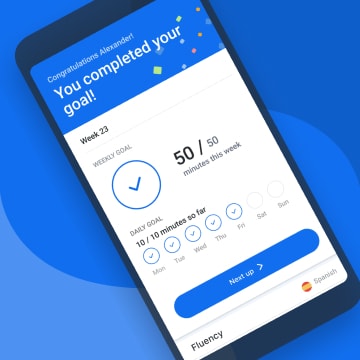 Complete Spanish
Try speaking, listening, reading and writing in Spanish for free with our Complete Spanish online course. With lessons covering everything from learning basic Spanish vocabulary to grammar, our content will help you study quickly and efficiently.
Spanish for Travel
Thinking of visiting a Spanish speaking country? You'll like our Spanish for Travel course. Whether you're learning the language on your own or with your kids, our course offers the easiest way to learn the Spanish vocabulary you'll need to get by on holiday.
What makes learning Spanish with Busuu's app special
Progress faster with a Study Plan
Struggling to get organised? Let us do the hard work for you! Discover the fastest way to learn Spanish with a personalised Study Plan. Decide when you want to take lessons, and for how long. Then, we'll work around your schedule, sending you notifications and reports to keep you on track.
Learn Spanish vocabulary and grammar
Our Spanish app's Grammar Review and Vocabulary Review ensure you pick up helpful phrases and understand how to structure them in sentences. Cover everything – online or offline – from basic prepositions to more advanced points.
Here's what others love about Busuu
Our 100m strong community are all learning together. Here's what some of them say...
Top tips: how to become fluent in Spanish, fast
1. Begin with 10 minutes
Discover how to speak Spanish as a beginner or at a more advanced level by putting aside 10 minutes and trying your first online Spanish lesson. Research proves that studying in small, 10-minute chunks is best.
2. Track your progress
Keep motivated as you power through your learning by keeping tabs on how you're getting on. With our Study Plan, you can check things like Fluency Score and the Spanish words you've learned each week.
3. Make tons of mistakes
The secret to learning to speak, write and read in Spanish quickly? Make mistakes – it's truly the best way to learn. Improve with feedback from native speakers, thanks to our Conversations feature.
For beginners: your first week with Busuu
Say you've decided to learn Spanish (great choice – as one of the most spoken languages in the world, you've opened yourself up to communicating with up to 534 million more people!). You're a complete beginner. You want to learn the basics – from counting in Spanish to ordering your morning cup of coffee. You've given yourself 10 minutes of studying time five days a week, Monday to Friday.
Question is, what will you do in that time?
The answer? Lots. Here's an idea of what 10 minutes a day on Busuu could look like…
Monday: Get started with these starter lessons
Take things nice and easy on your first day. There'll be plenty of time to tackle tricky topics like the Spanish subjunctive, and the difference between por and para.
For now, take a look around. Check out the "Community" tab, where you can become friends with Busuu's community of native Spanish native speakers, and the "Review" tab, where you can go back over the rules and vocabulary you've learned.
Then, dive into the Complete Spanish course. Start by getting comfortable with the simplest and most effective conversation-starter, hola. Continue with introductions, covered in lessons 2 and 3.
Tuesday: Try a Conversation
Wondering what makes us the best way to learn Spanish? We get you speaking as early as possible – and our community of native speakers steps in with helpful pointers so you improve as you go.
You'll have the option to write out your Conversation exercises, as you will in lesson 4, but we highly recommend that you use the audio function and record yourself. The sooner you try speaking, the less scary it will become. No one will judge you for your pronunciation, or if you get it wrong first time around.
Wednesday: Meet the verb estar
When it comes to language learning, consistency and routine are king – so if by day 3 you've forgotten to put aside 10 minutes, remember that your approach to learning with Busuu doesn't have to happen in a 'classroom' setting.
With Offline Mode, you can download content and absorb information on the move – whether you're on your way to the shops or at the hairdresser.
So, as you go about your day, in lessons 5 and 6 you'll be introduced to the concept of grammar, and one of two the Spanish verbs meaning "to be", estar (you'll meet the other verb meaning "to be", ser, later on in A1, and understand the differences between ser and estar in A2). You'll learn how to answer questions on how you're doing, plus get comfortable with using all singular forms of ser in the present tense.
Thursday: Review, review, review
So you've absorbed entirely new things for three days straight. Now, it would be easy to get carried away, and give into urges to speed your way to the end. But learning to speak Spanish is like building a new muscle: you'll need to spread out the hard work over a decent period of time, so your brain can absorb everything.
Taking more 'restful' days where you review is an important part of the learning process. Taking 10 minutes to review and repeat every few days will help build that all-important, longer term (muscle) memory.
Head to the "Review" tab, and click "Review now" for a Spanish vocab recap.
Friday: Address people formally and informally
Next on the agenda on Busuu's Complete Spanish course is when to use tú, the informal you, and when to use usted, the formal "you".
For English native speakers, this might introduce new, foreign ways of thinking, but thanks to Busuu's Spanish language experts, the concept is easy to pick up.
And for those of you with extra reserves of energy to spare by the end of the week? First, we applaud you. Second, there's a few more lessons you can squeeze in before you declare it the weekend. Finish up by learning more about the plural forms of the verb estar, and (most importantly!) how to order your morning coffee.
For more experienced Spanish learners: 2 extra resources
For those of you who aren't starting out as a Spanish beginner, but rather as a (somewhat) seasoned learner, we've got plenty of extras on offer.
Alongside lessons in the Complete and Travel courses geared towards intermediate Spanish learners, our Spanish language experts have put together a couple of new, exciting resources.
Read a Spanish article with El País
Take a break from our Complete course, and click on "Learn Spanish with El País. Here, you can keep up with what's going on in the world and improve your Spanish comprehension skills, with help from lessons created in partnership with Spain's most widely read newspaper, El País.
Top tip: don't be alarmed or put off if you don't understand every single word of Spanish you come across. Try and understand the gist and take note of any words or phrases that you don't understand.
Listen to our new podcast, "All about Spanish"
There's no better way to immerse yourself in a language than listening to Spanish people talk.
Enter our "All about Spanish" podcast. Sure, you might have tried listening to Spanish songs, or watching Spanish movies on Netflix, but more often than not, it can be difficult to find material that caters to your level.
These short, snappy episodes cater specifically to intermediate Spanish learners, and shed a little light on Spanish culture trends all over the world. Stay tuned – more episodes coming soon!