Looking for the best way to learn hiragana? You've come to the right place. We've got a handy hiragana chart and a great trick to lock these oh-so-important Japanese characters into your memory for good.
But first, what is hiragana?
Hiragana is one of the three Japanese alphabets, or writing systems.
Hiragana is the first alphabet that children and students of Japanese learn to read and write, and it's very widely used in Japan. A basic understanding of hiragana is practically necessary just to start learning Japanese! If you want to use Japanese textbooks and workbooks, you'll need to be able to read hiragana to get started.
But, fortunately, it's really very easy to learn. You can learn hiragana in just a week (or even a day or two, if you're ready to buckle down!).
A closer look at hiragana (and your handy hiragana chart)
Hiragana has 46 basic characters, each representing a key sound or syllable. Beyond that, it includes a few transformations – called dakuten, handakuten, and combinations – that tweak those basic characters in order to cover the full range of sounds you'll need to speak Japanese like a pro. But we'll start with the basic characters and get into the transformations later.
When we learn hiragana, we start with the 5 vowels – 'a' (あ), 'i' (い), 'u' (う), 'e' (え), and 'o' (お),pronounced like 'ah', 'ee', 'ooh', 'eh' and 'oh'.
After that, each subsequent row is sorted by the consonant sound they're paired with, in the order of those 5 vowels. So, for example, after 'a', 'i', 'u', 'e', 'o', we learn 'ka', 'ki', 'ku', 'ke', 'ko', then 'sa', 'si', 'su', 'se', 'so' and so on and so forth.
The secret to learning hiragana? Memorise characters with mnemonics
Now you've seen all the basic characters. Your next task is to start your hiragana practice! But how in the world will you memorise them? No need to worry. Like we said – learning hiragana is easy with the right tools. And we just so happen to have the right tools right here.
To help you remember these characters, we're going to use mnemonics. A mnemonic device is any device we use to memorise something, from an image or word association to acronyms and more. When people use "My Very Excellent Mother Just Served Us Noodles" to remember the order of the planets? That's a mnemonic device.
And when we tell you that the hiragana character for u has a 'u' inside of it, that's a mnemonic, too!
But seriously, look: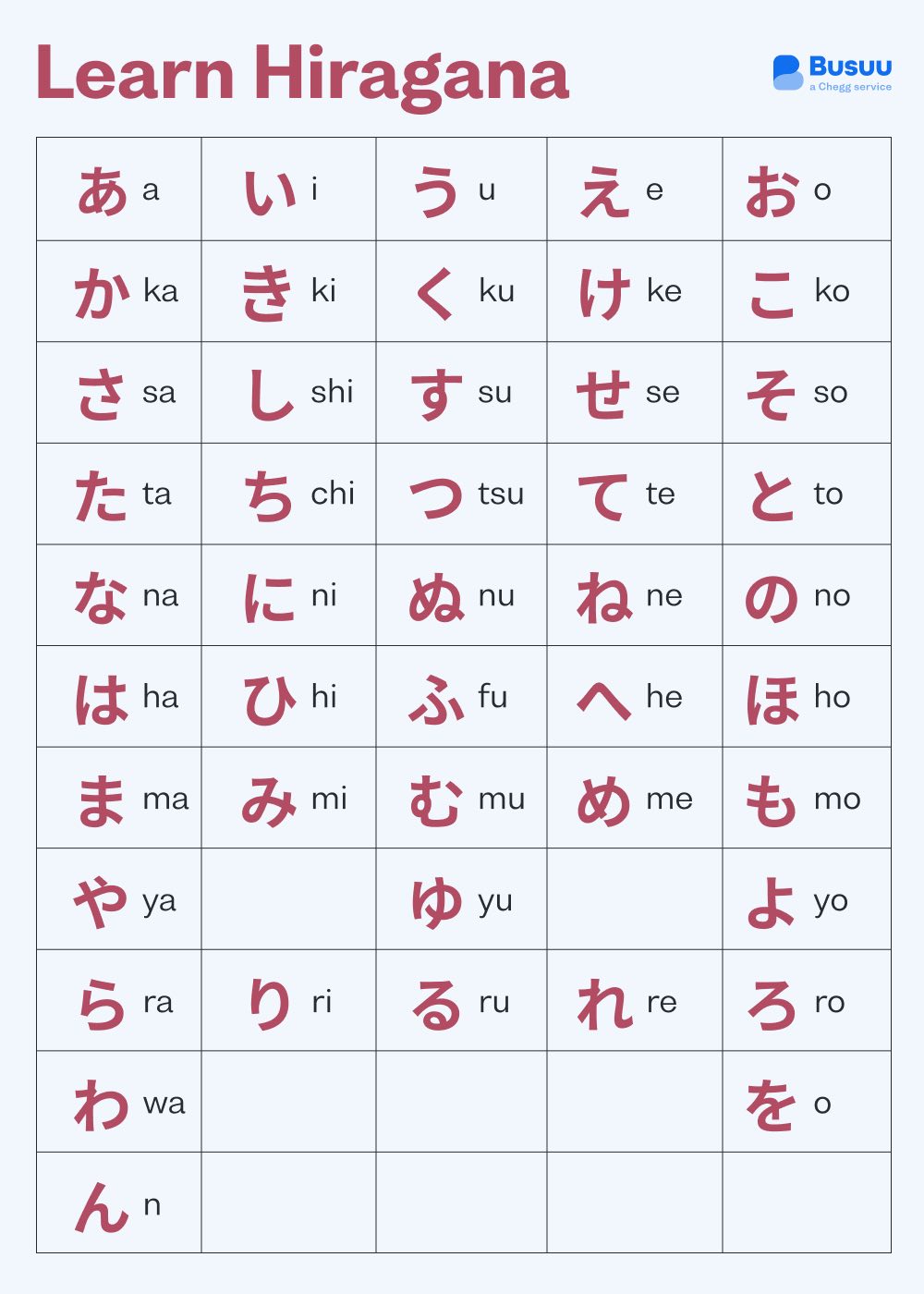 To learn hiragana, we just about always use mnemonics with images – after all, each character has a shape, right? That makes them ripe for image association.
Here are our favourite mnemonics for the 5 vowels
あ a
い i
う u
え e
お o
"ah"
"ee"
"oo"
"eh"
"oh"
Imagine skater having an ah–mazing time.
Imagine two drips of water.
"Ee! What just dripped on me?"
Imagine someone pulling really hard.
"Oogh, this is heavy."
Imagine a person running at top speed.
"I never run this fast!"
Imagine cogs turning.
"Oh, that's how a clock works!"
Hiragana transformations
Noticed several sounds still missing from this list? First of all, you're very astute.
Second of all, we make them with transformations! After all, you'll need 'go' to yell for Goku and 'pi' to call on Pikachu. Also 'chu', come to think of it.
To make these sounds, you don't have to learn new characters – just how to transform or combine them. Let's take a look.
Dakuten & handakuten
Dakuten refers to two little marks that appear at the top right of symbols to change their sound, and handakuten is a small circle used exclusively for a column of 'p' sounds.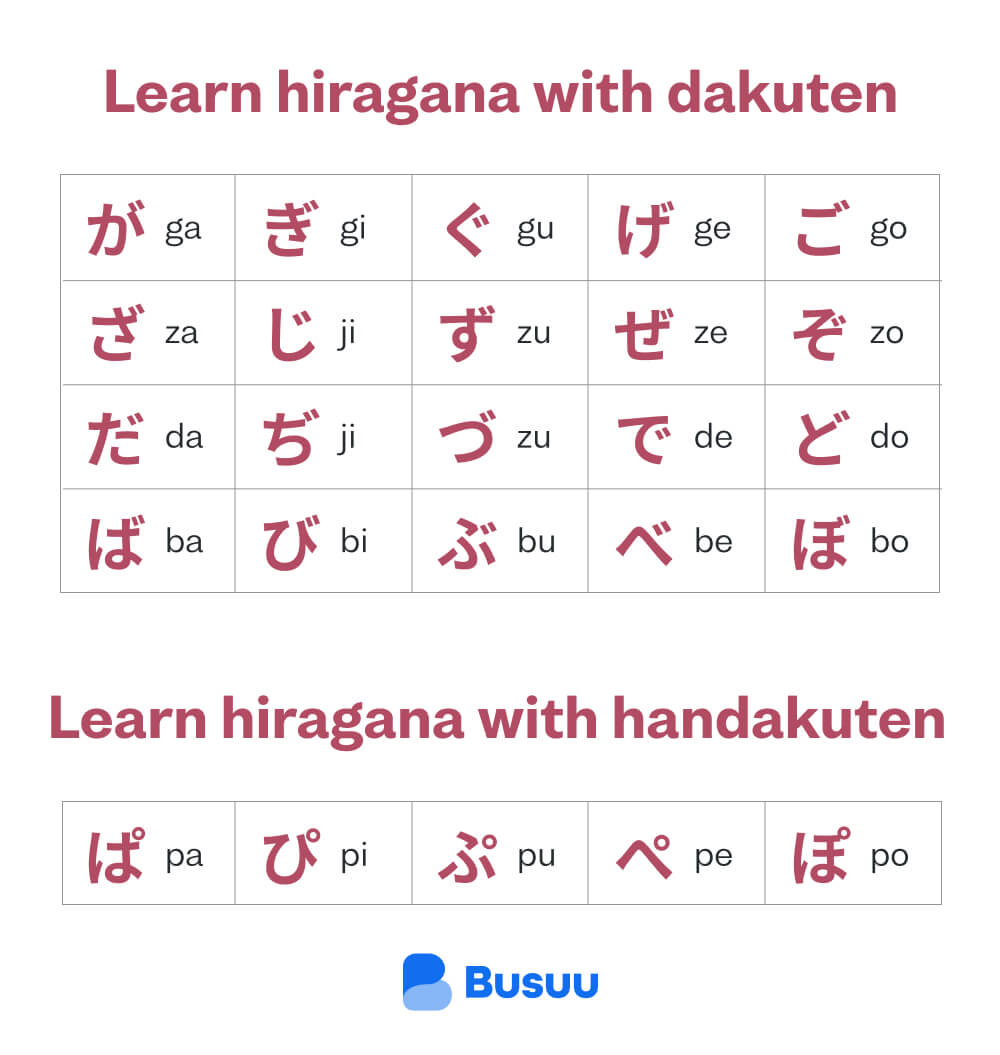 Moving on to combinations – they are how we make the 'chu' in Pikachu and the 'gyo' in gyoza. They look like this, combining a character from the 'i' (い) line with one of the three characters from the y-line – either 'ya' (や), 'yu' (ゆ) or 'yo' (よ). And when we write them, we make the 'y' sound small, which makes these easy to identify in the wild.
Combinations
きゃ
kya
きゅ
kyu
きょ
kyo
ぎゃ
gya
ぎゅ
gyu
ぎょ
gyo
しゃ
sha
しゅ
shu
しょ
sho
じゃ
ja
じゅ
ju
じょ
jo
ちゃ
cha
ちゅ
chu
ちょ
cho
にゃ
nya
にゅ
nyu
にょ
nyo
ひゃ
hya
ひゅ
hyu
ひょ
hyo
びゃ
bya
びゅ
byu
びょ
byo
ぴゃ
pya
ぴゅ
pyu
ぴょ
pyo
みゃ
mya
みゅ
myu
みょ
myo
りゃ
rya
りゅ
ryu
りょ
ryo
Hard stops using つ
Last but not least, we have this little character you'll be seeing around. While つ is the character for 'tsu', when it's written small, it serves an extra purpose. It tells you to take a quick little pause when pronouncing the word where it appears.
Here are some examples where it makes a big difference:
ろく roku six
ろっく rokku rock music

ざし zashi idle spectator
ざっし zasshi magazine
Now all that's left is to practice hiragana until you've mastered it
Whew, that was a lot!
But the good news is, Busuu has all the online exercises you'll need to learn your hiragana inside and out. That includes exercises using mnemonics, lessons on stroke order and how to write the hiragana characters (the next frontier!), and so much more that'll help you put your new knowledge to work.