UK language learning report 2021
UK-based learner activity reveals top language trends of 2021.
With the end of the year upon us, we decided to take a look at language trends for 2021, based on data from our 120 million learners across the world. In this report, we'll be looking specifically at trends from learners based in the United Kingdom.
Here's what our Chief Learning Officer, Kirsten Campbell-Howes, had to say about the insights revealed by this data:
"During the pandemic, some interesting learning behaviours have emerged. While some trends have continued – Spanish remains widely popular among UK-based learners – we were surprised to see new trends emerging. For example, we were fascinated to discover that a 26% increase in people signing up to learn Japanese with us followed the first week of the Tokyo Olympics. In these past years, we have found that despite travel bans, fun and travel have emerged as top drivers of language learning activity."
2021 language trends, explored
English beats Spanish as the most popular language to learn in the UK overall
English has beaten Spanish this year.
English is now the most popular language to learn in the United Kingdom – and increasingly so. Four per cent more Busuu learners learned English in 2021 than the year prior.
As English is the primary language of the UK, your first thought may be that native English speakers are increasingly concerned about brushing up on their grammar. But our numbers suggest that this is due to increasing numbers of internationals living in the UK learning for work or education. Thirty-six per cent of English learners in the UK are studying for work, and 24% for education.
"I'd say this rise is likely because 2021 has brought more opportunities for international students and business people to travel to – or return to – the UK," muses Busuu's Director of Learning Design Federico Espinosa.
"2020, after all, had many of us staying home. As the world begins to reopen, it's only natural that people who've been waiting to visit family, go on business trips, or start their studies abroad would jump at the chance."
English as the most popular choice is also no surprise when you look at global language trends, as English is also the most popular language to learn worldwide in 2021. Forty-nine per cent of Busuu learners worldwide have been learning English as a second language this year.
"English is, of course, very important for the job market globally," Espinosa explains. "It's a common lingua franca for business and tourism worldwide."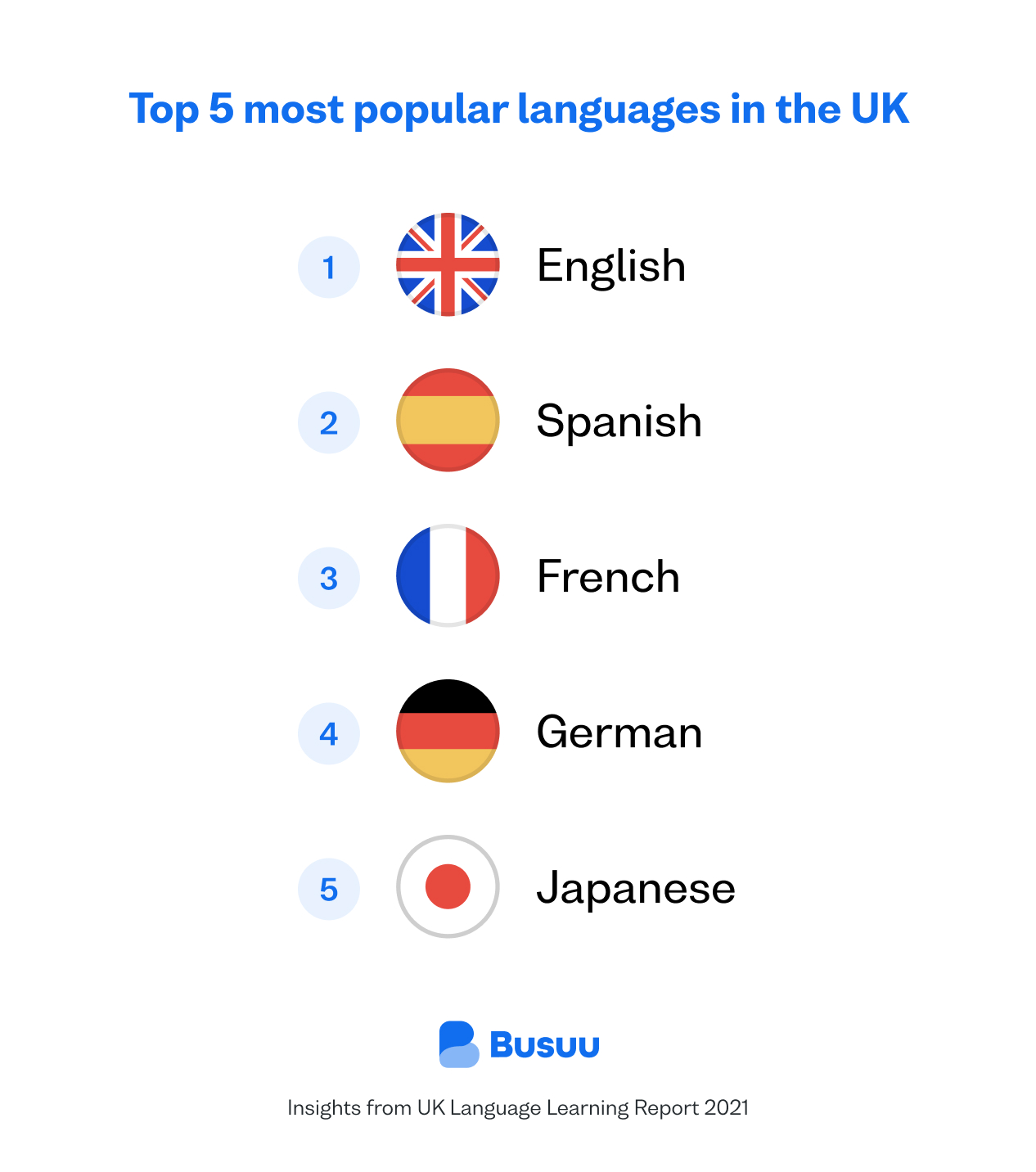 Meanwhile, Spanish has taken second place, and stands as the most popular foreign language to learn in the UK. Interestingly, according to our data, travel is still the top reason to learn Spanish in the UK, despite the factors that kept many of us from travelling.
But then, this makes good sense – statistics show that Spain has always been the most popular travel destination for UK residents, with Brits visiting Spain approximately 1.8x as frequently as they visit France, the second most visited international destination! Plus, Spain was one of the first countries in Europe to lift quarantine restrictions completely for arrivals from the UK, lifting restrictions in May of this year.
Japanese learners in the UK are the most active, thanks to the raging popularity of the Olympics and anime
Interestingly, Japanese learners are the most active on a weekly basis.
"One reason Japanese learners may be so active is that they simply have to be – Japanese is a hard language to learn," says Natalia Konstantinovskaia, Busuu's Senior Japanese Learning Designer.
"There are three unique components of the writing system to learn, different grammatical structures to master, and levels of politeness to keep in mind. However, I think it's important to consider why people are learning Japanese – people's motivation plays an important role, too."
And Konstantinovskaia is right. According to our data, the top reason UK learners choose to learn Japanese (40%, to be exact!) is for fun.
On that note, if, when you think of 'fun' and 'Japanese' in 2021, you think of the Olympics, you might be right! But it's not the whole story:
The Tokyo Olympics did pique interest in the Japanese language
Visiting Tokyo for the Olympics may have been off the cards, but the Japanese language piqued the curiosity of spectators watching at home. We saw a 26% increase in people signing up to learn Japanese during the first week of the Tokyo Olympics.
In particular, after countries marched into the city's Olympic Stadium in Japanese alphabetic order at the opening ceremony, Busuu's online guide to the Japanese alphabet saw a 996% increase in visits.
Anime played its part, too
However, while the Olympics may have given the Japanese language a moment in the spotlight, it's the growing popularity of anime that has given the language more air time in 2021. Animated programmes from Japan received a huge boost in popularity over the course of the pandemic.
In fact, Netflix told The Wall Street Journal that more than 120 million households worldwide watched at least one anime title on its service in the first 9 months of 2020 – up 50% from a year earlier.
This increased interest in anime has clearly translated into an interest in learning Japanese – proven when popular movies like The Seven Deadly Sins: Cursed by Light sparked a 44% increase in new Japanese learners in the UK for a month after it was released on 2 July 2021.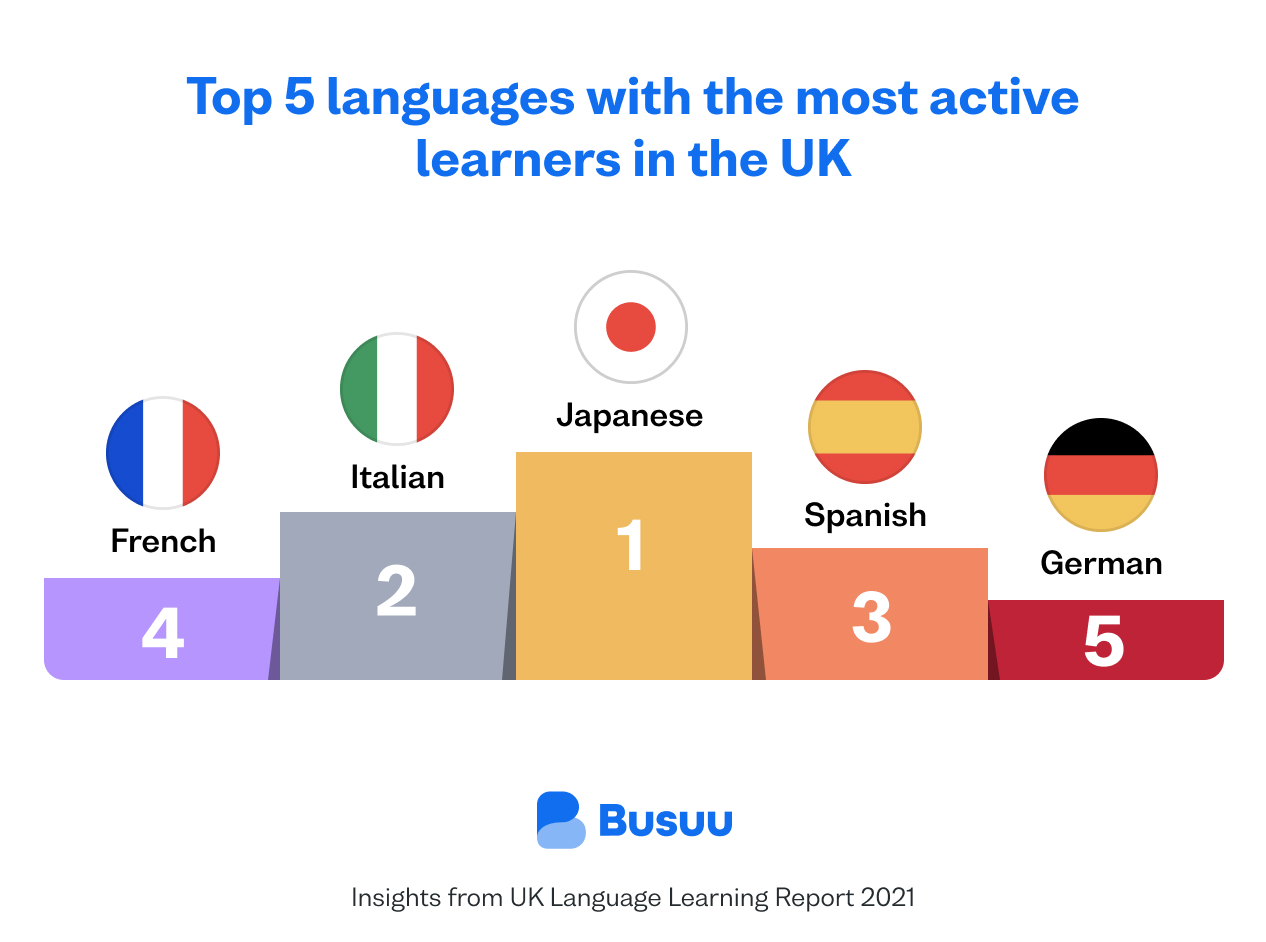 But learning for the love of if doesn't begin and end with Japanese. Italian came a close second as the language with the second largest number of active UK learners.
"I may be biased, but this doesn't come as a surprise to me," says Busuu's Senior Italian Learning Designer Dani Zanini.
"Not only is Italian a fairly easy language to pick up, but it's communicated with fun and expressive body language – just take a look at the hand gestures Italian footballers make on the pitch when they miss a shot!"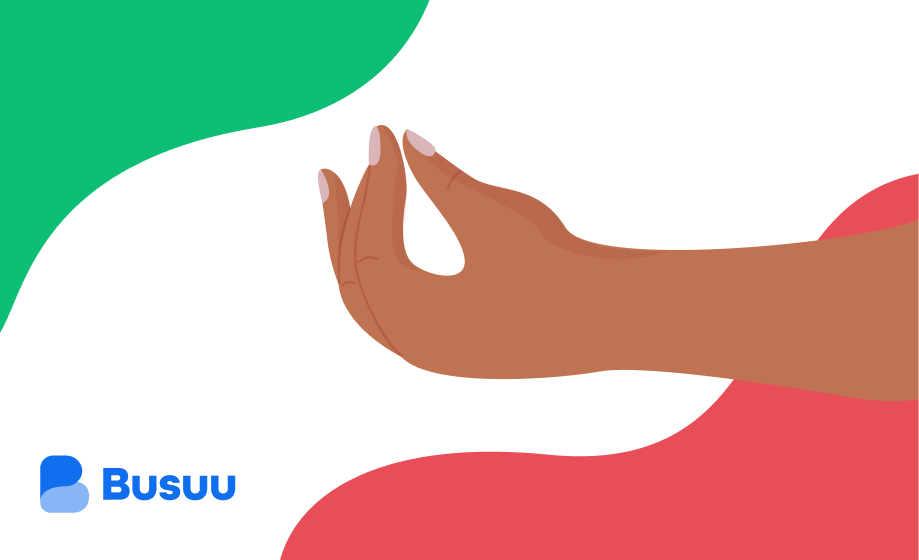 Those unique hand gestures haven't gone unnoticed by the Brits – especially not during the Euros final, when England faced off against Italy. Brits were so intrigued by Italian footballers' hand gestures on the pitch, Busuu's blog post on Italian hand gestures saw a 404% increase in visits.
And that increased interest in Italian didn't stop at hand gestures, either. The Euros drove a 61% increase in new Italian learners in the UK.
Learners in Brighton and Edinburgh studied the hardest in 2021
People in Brighton and Edinburgh really buckled down and got some serious learning done in 2021.
The average learner in each of Brighton and Edinburgh studied enough to complete an Upper Intermediate (B2) level course – or enough to go from never having heard French before to a basic mastery of the present tense.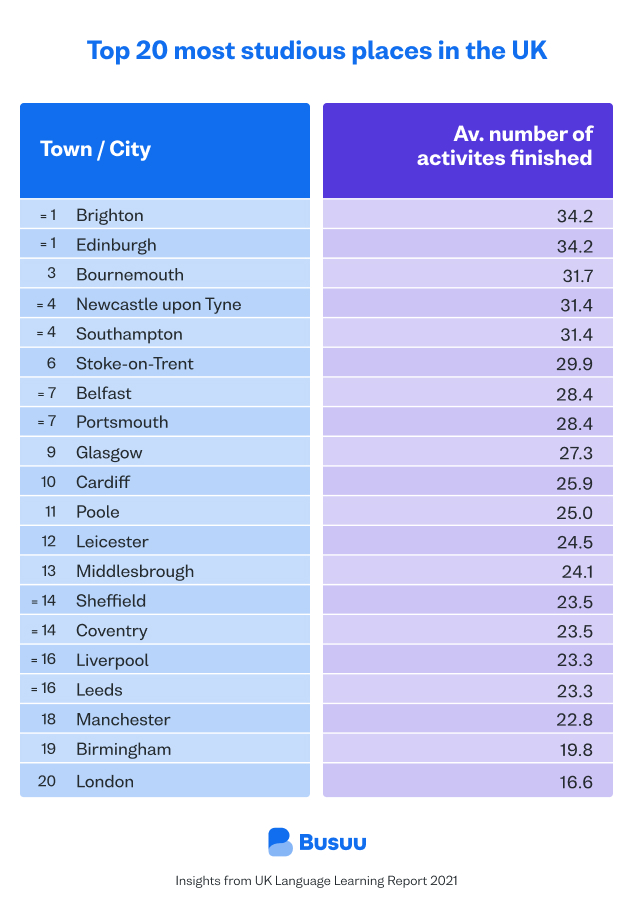 The least studious place in the UK? We're sorry to say it's the UK's capital, London. Learners in London completed only half as many activities as those in Brighton and Edinburgh.
Ever had your grammar corrected in Glasgow? Busuu learners have – over and over (and they liked it)
While correcting someone else's grammar unprompted may not usually be something to celebrate, on Busuu it counts as your good deed for the day. Our community relies on learners to help each other grow. On Busuu, learners can ask for feedback from native speakers of the language they're learning.
As well as helping learners practise speaking more like a native speaker, this feature helps foster connections within the community.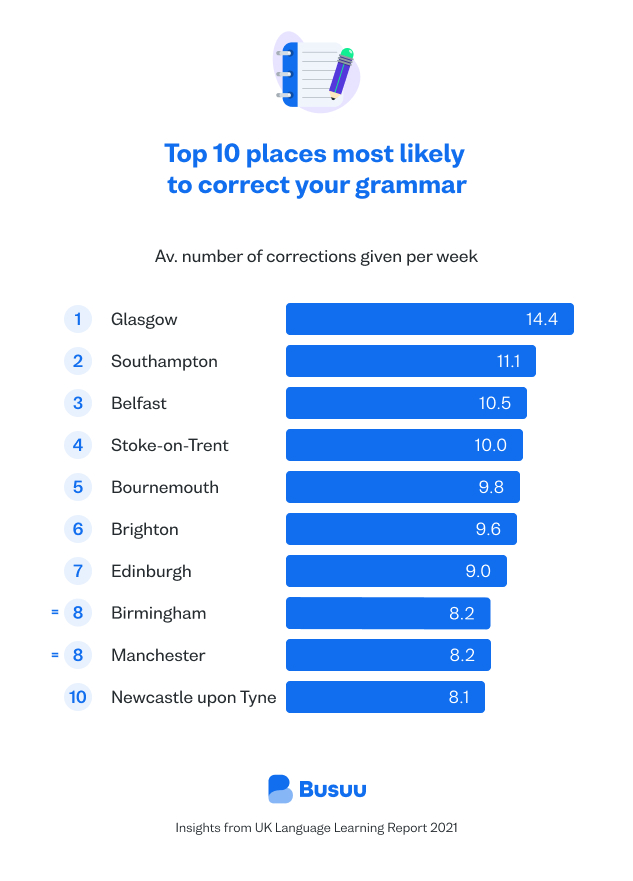 And we owe our Glasgwegians a bit of champagne (or perhaps a whiskey!) for their hard work. Glaswegians corrected an average of over 14 different exercises per week – that's well over double the average that Londoners managed!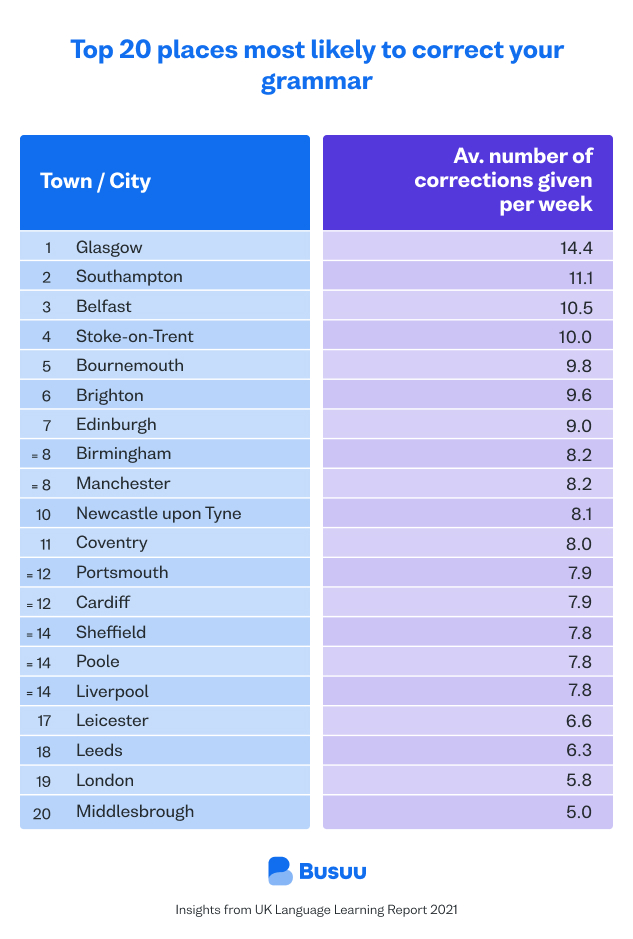 Poole is crowned the UK's friendliest place (and London, the least friendly… )
Last but not least, when it comes to facts about British language learners, we'd be remiss not to share our data on the number of accepted friend requests on Busuu throughout the UK.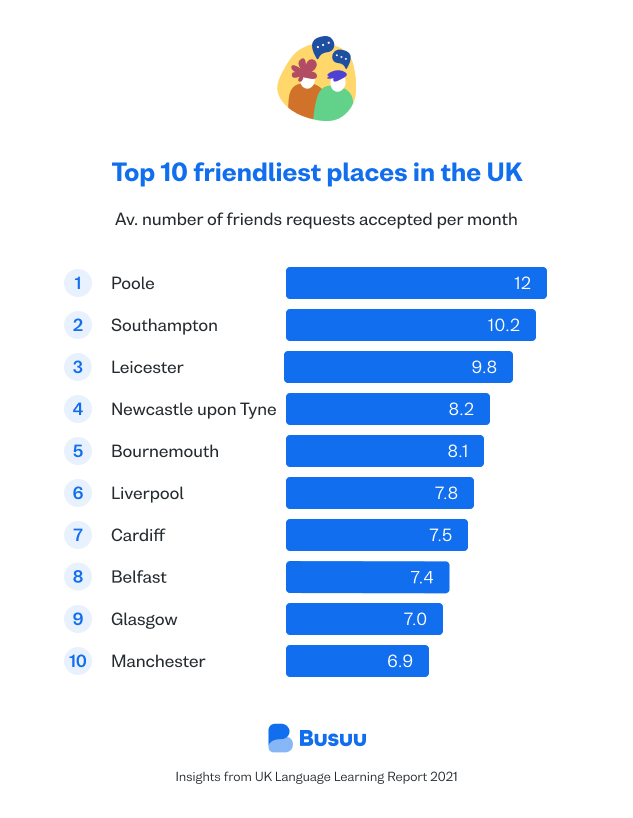 The top three friendliest places in the UK are Poole, Southampton and Leicester. Meanwhile, Brighton, Coventry and London fell to the bottom for friendliness.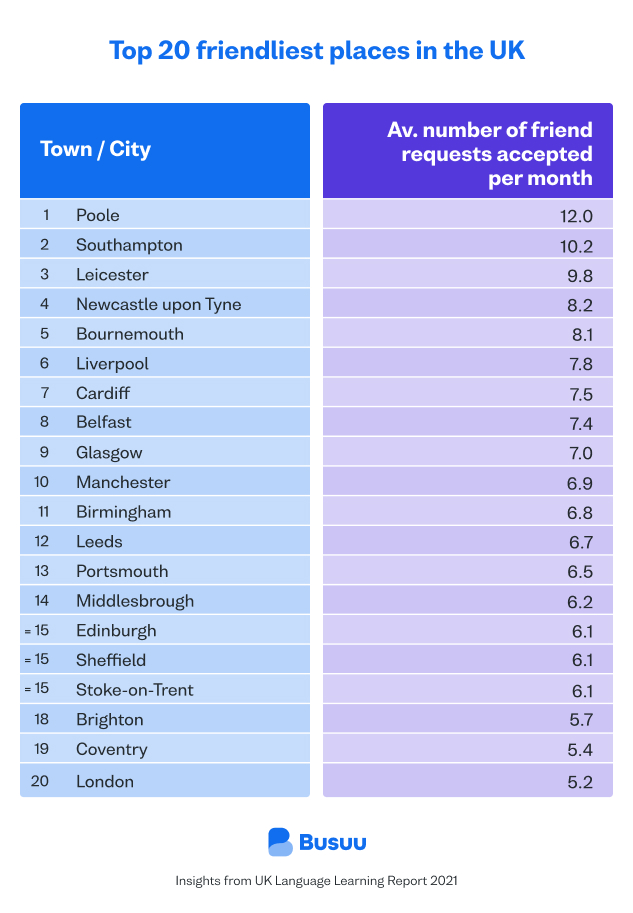 Methodology
The data in the UK Language Learning Report 2021 is based on a representative sample of more than 300,000 people who learned a language on Busuu in the UK between 01 October 2020 and 31 September 2021. For more information, contact: press@busuu.com