Improve your
Spanish conversation skills

quickly
Find topics and resources to help practise your Spanish conversation skills, no matter your level.
If you're learning Spanish, you'll surely want to take time to work on your Spanish conversation skills.
After all, we learn a language to speak it! Improving your conversation skills will allow you to speak Spanish with confidence – and communicating with confidence makes learning Spanish both more fun and more practical.
Where can you practise Spanish conversations online?
The good news is, you don't need to live in a Spanish-speaking country to meet Spanish speakers. Here are our tips for three easy methods that'll help you practise Spanish conversations online.
1. Spanish language exchange with native speakers
It won't surprise you to hear that language learners benefit from interacting with native speakers.
Getting feedback from people who use the language day to day can help you feel more comfortable and confident when speaking Spanish. Plus, it helps you learn how people really speak, giving you a better sense of vocabulary that's more and less common in modern Spanish and in different Spanish speaking countries.
The good news? We know an easy way for you to connect and communicate with native Spanish speakers and get direct feedback on your exercises and pronunciation.
Busuu's language-learning app is unique because it both gives you self-paced Spanish lessons at your level and connects you to an awesome community of learners.
On Busuu, you can write responses and complete exercises that are shared with a community of language learners from around the world. From there, native Spanish speakers give you friendly, helpful feedback on your grammar, pronunciation, and word choice.
And you can even give back by doing the same for learners of your own native language!
Learn with our community
When you join Busuu, you don't just get award-winning course content and features – you join a wonderful community of learners, ready to help you take the leap and improve your Spanish conversational skills.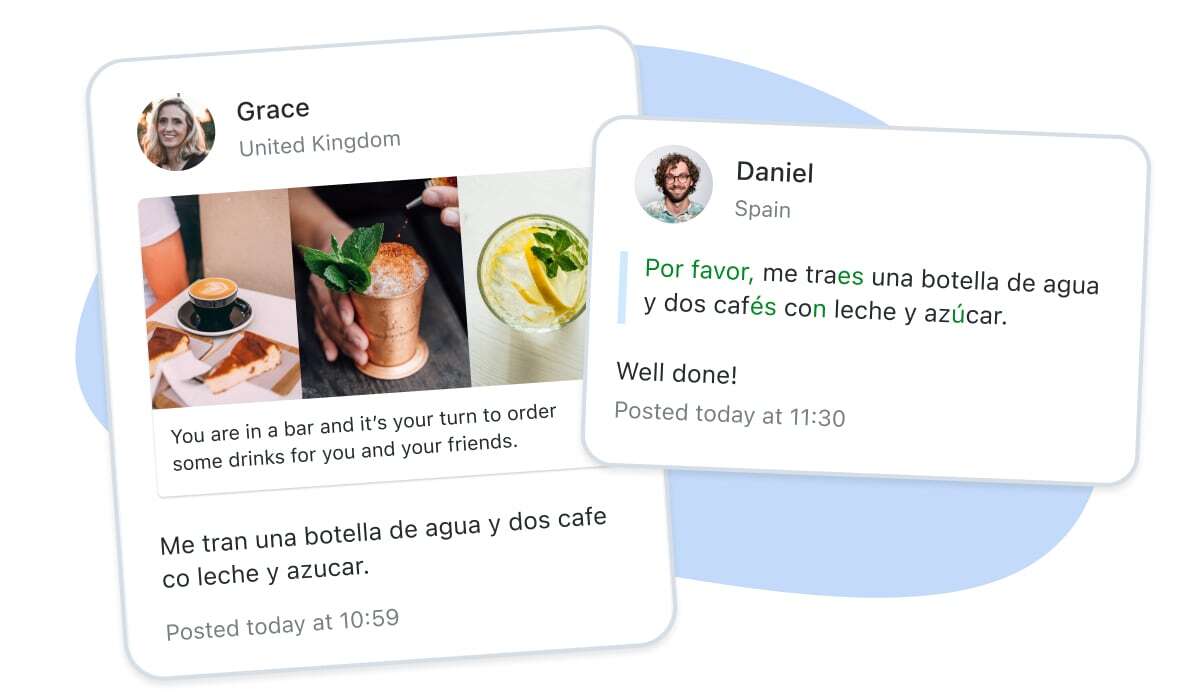 2. Lessons with online Spanish teachers
Another great support for practising Spanish conversation? A professional teacher. While you may not be able (or want) to jump into a college course tomorrow, that doesn't mean you can't take lessons with a qualified Spanish teacher.
A recent study found that learners who included live Spanish lessons in their lesson plan over the course of 2 months learned faster and made more progress, especially in their Spanish conversation skills.
3. Spanish dialogue drills
Our third recommendation for improving your Spanish conversations? Listening to dialogues.
Listening to dialogues and using dialogue exercises can help you improve your listening skills in Spanish. Hearing native speakers talk to each other can help you improve your accent, stretch your vocabulary, and speed up your listening comprehension time in a safe environment and on your own schedule.
We recommend using dialogue exercises that are related to what you're learning where you can hear the words spoken, see them written, and then see them translated to English (or your native language) all in one place. And that's exactly how we work dialogues into our Spanish course on Busuu.
Conversational Spanish topics and phrases for every level
Now we've covered how to practise. But what exactly should you be practising? Here are a few topics that make sense for learners to use to practise their Spanish conversation, grouped by Spanish fluency.
Basic Spanish conversation topics for beginners
Introducing yourself – hello, how are you, my name is, I am from…
The weather
Favourite foods
Hobbies
Family
Intermediate Spanish conversation topics
Work basics
Technology
Dreams and ambitions
Vacations
Moods and feelings
Advanced Spanish conversation topics
Books and poetry
The news and politics
Art and culture
Science
Advanced work and business
There you have it. From simple and easy Spanish conversation to online Spanish conversation classes, you have it all covered – now all that's left to do is kickstart your learning.
Ready to take your Spanish conversation skills to the next level?
Get stuck into Busuu's bite-sized lessons and you'll be speaking Spanish like a pro in no time. Ready?